Como ya varios saben tengo un Media Player Dune HD Base 3D del cual estoy enamorado pero como si esto no fuera poco esta gente acaba de lanzar el nuevo
DUNE HD DUO 4K
Escala a 4K, puede alojar ahora 2 discos rígidos internos de hasta 10tb, tiene chip ESS SABRE 32, salidas RCA + Balanceadas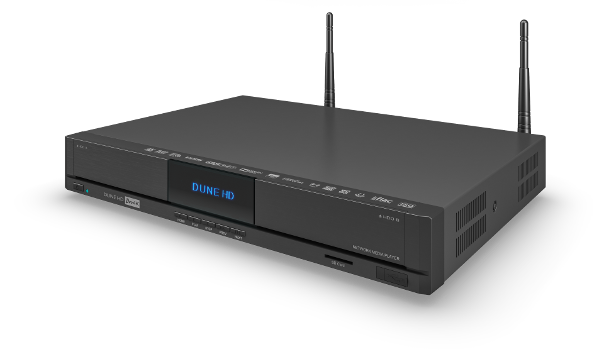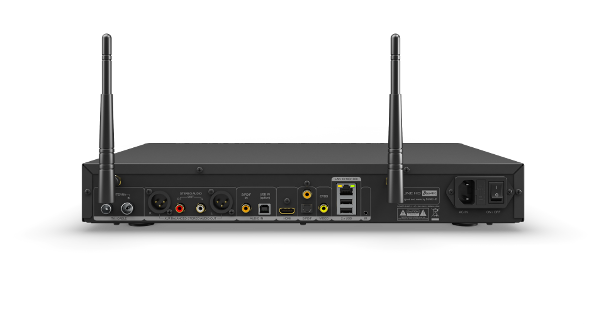 Dune HD Duo 4K is a new premium full-sized 4K network media player, based on the famous SMP8758 Hi-End chip from Sigma Designs, with professional-grade picture quality, audiophile-grade hardware, advanced media playback features, advanced connectivity and integration options, Smart Home support.
The new model is equipped with two hot swap 3.5" SATA HDD racks each supporting up to 10TB+ HDD, three USB ports, SD card slot, 1Gbit Ethernet, 802.11ac Dual Band 2T2R Wi-Fi, built-in DVB-T/T2/C tuner (for non-US version), built-in Z-Wave controller.
Additionally, Duo 4K has a variety of advanced audiophile features, including the famous ESS SABRE32 Reference DAC (ES9018K2M), XLR balanced stereo audio output, S/PDIF audio input.
Key Features
Duo 4K includes the following key features, many of which are unique for Dune HD media players:
Advanced Media Player:
The famous Hi-End SMP8758 media processor from Sigma Designs (the first and the only currently available chip by Sigma Designs with real 4K video support).
Professional-grade "VXP" video processor ensuring the best picture quality.
4K video decoding and output (up to 4Kp30). The ability to both play 4K content and upscale any content to FullHD and 4K.
Support for the newest HEVC video codec (2x picture increase over H.264), including 10-bit color encoding.
Proper support of true "Hollywood" frame rate (23.976 Hz), which ensures perfect smooth playback without any stuttering or lost frames.
Bit-perfect output of studio-quality high definition audio tracks to A/V receiver, including Dolby TrueHD, DTS HD MA, and the newest Dolby Atmos 3D audio format.
Support for all modern 3D video formats such as MVC (BD3D), Side-by-Side and Top-and-Bottom, with 3D menu and 3D subtitles.
Playback of high-quality (up to 192 KHz / 24-bit and DSD512) music files in various Hi-End audio formats (FLAC, Monkey's Audio APE, WAV/PCM, Super Audio CD, etc).
Support for a lot of various audio/video codecs and file formats, various subtitle formats, external audio tracks, playlists, and other advanced playback functions.
Settings to control various parameters, including zoom, audio synchronization, subtitles synchronization, subtitles visualization (position, font, size, color), brightness, saturation, hue, contrast, adaptive contrast enhancement, deinterlacing, video resolution, framerate, color depth, colorspace, etc.
Full Blu-ray Menu Support:

Duo 4K can play Blu-ray images not only with the simple "BD Lite" mechanism, but also with full Blu-ray menu, from any source (local or network). Both 2D and 3D BD images are supported, including 3D menu and 3D subtitles.
Built-in "My Collection" Service for Movies Collections Management:
This service was developed by Dune HD especially for movie enthusiasts providing the easy way to organize collections of movies and TV series. With this new tool the user can easily organize the home movie library into a nice looking catalog with detailed movie descriptions, posters and background images and learn everything about movies and cast just with a couple of clicks. Using the unique crew and cast explorer feature, the user can conveniently find movies to watch, including the movies which are not yet in the collection. All of this is available out-of-the-box, w/o the need to use a PC.
Built-in DVB-T/T2/C Tuner (for Non-US Version) with HEVC 4K Support:
The tuner allows watching free-to-air broadcasts, including the channels using the newest HEVC video codec and 4K channels (up to 4Kp30).
Built-in Z-Wave Controller and Smart Home Gateway:
Duo 4K has built-in radio module for the integration into Smart Home systems based on Z-Wave technology.
By means of the provided Smart Home Gateway software (based on the famous "Z-Way" Smart Home Gateway from Z-Wave.me), Duo 4K can be used as a primary Z-Wave controller to build the Smart Home environment from scratch, or integrated (as a secondary Z-Wave controller) into an existing Smart Home setup.
The Smart Home Gateway can be operated via iOS/Android applications or a web browser. It allows access both from local network or from Internet, and additionally supports the integration with non-Z-Wave systems.
Other Options for Integration into Smart Homes and Hi-End installations:

Ready-to-use Control4 driver for the integration with Control4-based Smart Home systems.
Built-in Dune HD IP Control interface.
Built-in IR extender port.
Various Possibilities for Customization and Functionality Extension:

Skinnable user interface and various options to customize the UI look and behavior.
Plugins mechanism and application programming interfaces for custom applications development.
A lot of plugins, applications, UI skins available via the official Dune Store and from the users community.
Various third party solutions for movies collection management.
What's New? Differences to Solo 4K
Compared to the previously released Solo 4K model, Duo 4K has the following additional features and enhancements:
Housing and Connectors

Full-sized housing with standard Hi-Fi form-factor (43 cm).
OLED display and control buttons on the front panel.
Two hot swap 3.5" SATA HDD racks, each supporting up to 10TB+ HDD, with direct convenient access via the front panel.
SD card slot.
Additional USB port (3 USB ports in total).
Optical S/PDIF output.
Separated connectors for coaxial S/PDIF output, analog audio output, composite video output.
RF loop through connector for DVB-T/T2/C tuner.
More Powerful Hardware
2GB RAM (2x in comparison with Solo 4K).
8GB flash memory (2x in comparison with Solo 4K).
Bigger and more powerful Wi-Fi antennas (2T2R) for the built-in 802.11ac Wi-Fi.
Audiophile Features for High-Quality Audio

The famous ESS SABRE32 Reference DAC (ES9018K2M).
XLR balanced stereo audio output (for professional ultra-low-noise analog audio connection).
S/PDIF audio input (to use Duo 4K as a high quality audio DAC by connecting external digital audio sources).
Galvanically isolated digital audio connectors (for reduced noise and jitter).
MSRP: 699 EUR
http://dune-hd.com/eng/products/full_hd_media_players
En poquito creo que se viene un upgrade............ ya que al día de hoy creo que lo mas flojo que tengo es el reproductor.